Heating Station for Tablet and phone Screen Opening
Heating Station for iPad 2 3 4 ipad mini Air Samsung tablet 2 3 4 Screen Opening Remove The LCD Touch Screen Glass Digitizer
Parameter:
Size: 38cm*23cm
Power line length: 1.5 meters
Voltage: 220V~50Hz
Power: 190W
Temperature range: 30 ~110 C [adjustable]
Time to target temperature: 30 seconds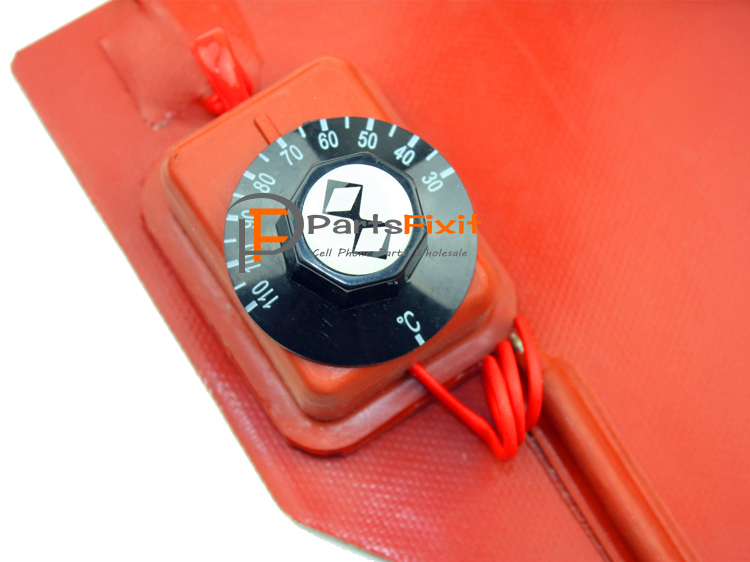 It is more convenient to remove the broken screen by using this item and it greatly reduce the risk and bring higher
efficiency for disassembled the screen.
Method of use: make Mat tiled on desktop, keep desktop neat, temperature control knob placed on the left side.
Change the screen: (Example for iPad)
Step 1: Reheat the metal shell part, the temperature control knob to 60 degrees, put the iPad on the Heating Station and
make iPad face up for 2 minutes.
Step 2: the positive external heating outer peripheral down for about 2 minutes, turn over with a crowbar or inserted into
the outer gap test picks, if the rubber surface is softened, and then adjust the heating temperature and time according to
the actual situation. The rubber surface softening, the temperature control knob to O or turn off the power, with the
residual temperature on the casing in rubber softening state, dismantling.
Reminder:
1. Rubber surface softening, iPad not be placed back on the heating surface for long time.
2. Regarding the temperature and time, each operator should to get their own suitable setting according to the actual
situation. The temperature and time indicted at here is just for your reference.
Safety tips:
1. Do not excessively bend the Heating Station mat to avoid damage the internal heating components.
2. Heating Station mat is not waterproof, so please do not clean it in the water and keep away from the water, to avoid
short circuit.
3. In case of splashing water to the mat, please turn off the power immediately(press the yellow button on the "Anti
leakage plug" to turn off the power.
4. Do not use cutting, piercing the heating surface, so as to avoid the leakage.
5. Don't put the iPad on the mat for long time during heating process, otherwise it will damage the motherboard and LCD