OCA Glue Remover Tool TBK-008 Special for Edge Screen
This Glue Remover Tool special for edge screens for removing the OCA glue, it don't damage the LCD.
Specification:
Power Supply: DC 5V
Dimensions: 135mm * 55mm (L*Diameter)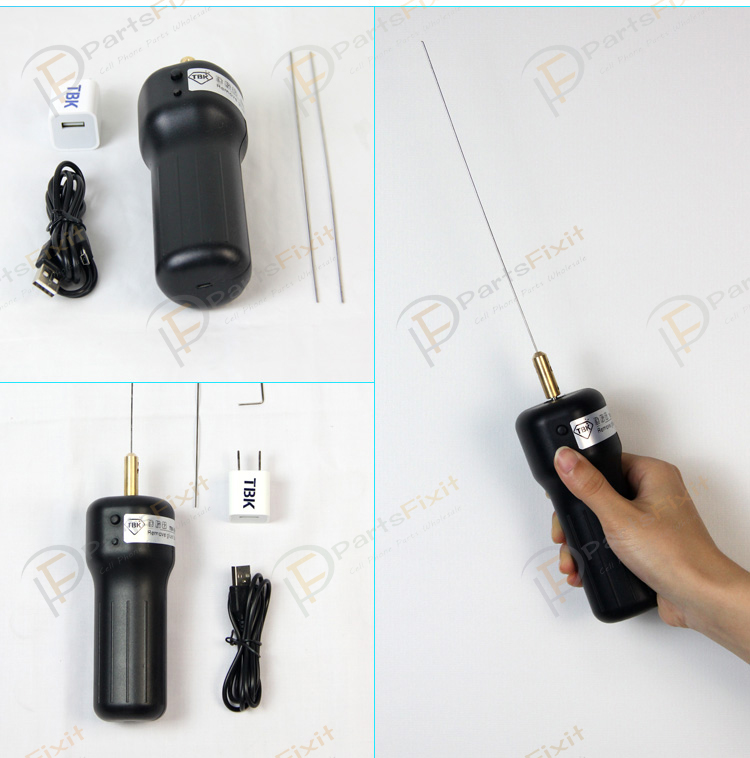 Here are videos for you referrence:
Safety Rules:
1. Always unplug the tool when you change accessory or collet.
2. Do not engage the shaft lock button while the tool is running.
3. Do not use the machine near water or place it in water. If motor falls into water, unplug it immediately and do not touch the water.
4. Do not touch the bit or collet after using it beacuse the bit and collet are too hot to touched by bare hands.
5. Keep dust out of you eyes and lungs by using a protective eyewear ir a dust mask.
6. Always "unplug it" after using the machine.
7. When not used, tool must be stored in a dry place and kept beyond the reach of children.
Operation:
1. This tool is design for carver, engrave, rout, grind, sharpen, sand, polish, drill and more.
2. Unplug the tool form electrical outlet before loading a bit.
3. Press shaft lock button. Use the collet warench to loosen the collet nut.Inset the bit (not included), and tighten the collet securely. But avoid excess tightening of the collet nut and never use a damaged bit.
4. There is an ON/OFF switch. When the switch is on, the tool runs at 13,000 RPM. There is a switch indicator with an orange line on it. Slide the switch to find the speed needed from 3000 - 13,000 RPM. Slide the switch to the black dot for complete stop.
5. When finished, turn off the tool and unplug it.
Maintenance instruction:
Clean the body with soft cloth.
Never use cleaning solvents or detergents.
No accessories of this tool is available for replacement.