White for iPhone 5s LCD Full Assembly with small parts
If your
iPhone 5S front screen is
broken or cracked, you can buy this full original quality screen to replace it. The item is a complete front unit only without the home button. It will be much easier for you to install and saves you much time. You just need to transfer the home button (Fingerprint sensor) to the new screen and get it installed.
This Brand new Original LCD Screen Digitizer Assembly comes with Digitizer Touch screen, LCD Display, Supporting Frame Bezel, earpiece with brackt, front camera with sensor flex, LCD Metal plate with sticker.
It
Makes your iPhone 5S looks new again.
It's great
for replacing your Old, Cracked or Non-working LCD Screen with Digitizer for iPhone 5s.
Each item be tested and checked by qualified people before shipping. The lcd display is checked without dead pixels. And the touch screen is tested sensitive. We only ship grade A quality products.
Carefully handle the flex cable ribbon of iPhone 5S display replacement when installing the screen. Make sure the installation was done by qualified technician.
Packing Include: 1 x Original White Full
Assembly with Small Parts
for iPhone 5S
Note: It does not includes home button, because for iPhone 5S Fingerprint Sensor has scanned your Touch ID, the data has been recorded into the A7 Chip of the motherboard. It is not useful to buy the Home Button (Fingerprint Sensor). It means your Home button can not be replaced, otherwise your phone can not switch on!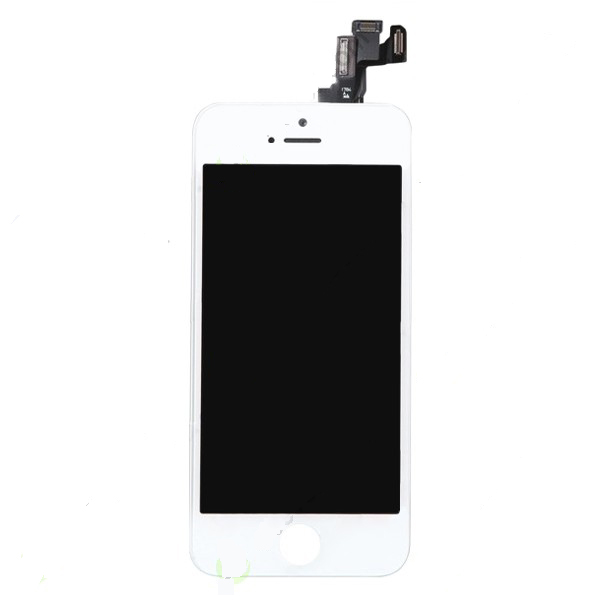 Write a review
Your Review:
*
Note:

HTML is not translated!
Enter the code in the box below:
*