For iPhone 6S Plus LCD and Digitizer Tester
If you need more tester pcb board pls click here
http://www.partsfixit.com/for-iphone-6s-plus-tester-pcb-borad.html
Brand new and good quality LCD display touch screen digitizer tester for iPhone 6s Plus
This LCD tester is to test the condition of the touch screen digitizer, whether it is good or bad, workable or unworkable
With LED indicators to show the conditions of the digitizer and power light
Portable and lightweight design, easy to carry and store
Easy operation

Operation:

1. Insert the included (charged) to power the tester
2. Insert the Tester PCB Board into the tester, then link the touch screen digitizer to the PCB board,
remember to link tight for better tester
3. Power on the LCD display by pressing the S1 button, wait 2-3 seconds still it's powered
4. After it is well-linked and powered, if the digitizer is in good condition, there will be clear picture shows on the screen;
if it is in bad condition, there are some strips or dots appeared
5. Press S2 and S1 button to check the next / pre pictures
6. Power off the LCD display and the tester after finishing testing

Compatible With:

iPhone 6s Plus LCD and Touch Screen Digitizer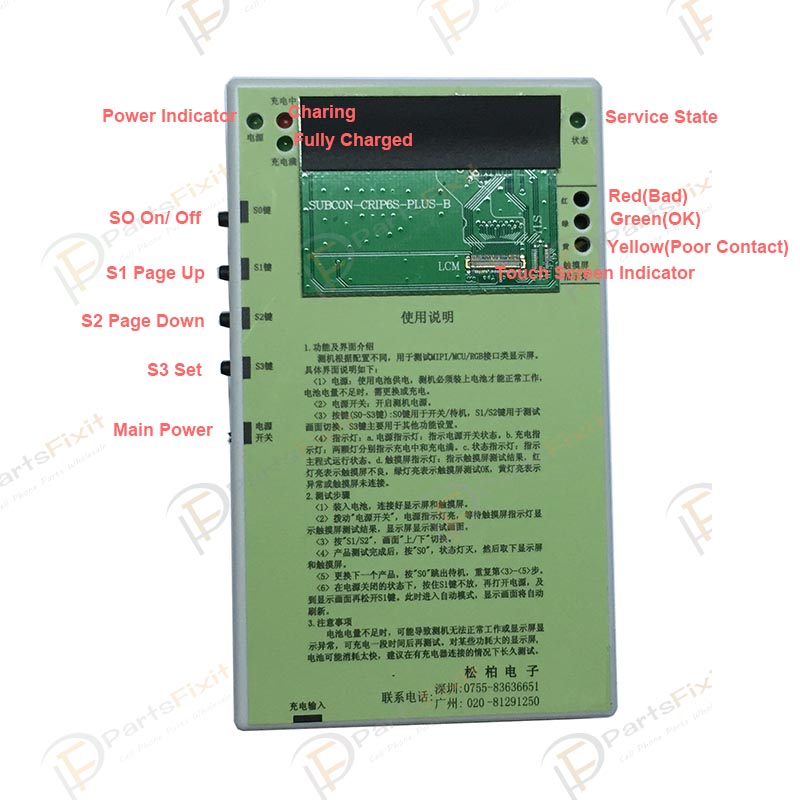 Write a review
Your Review:
*
Note:

HTML is not translated!
Enter the code in the box below:
*